Nick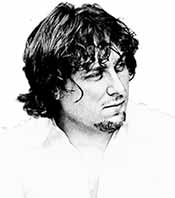 Hailed by critics as the new "American Bocelli", Nick Palance is truly and extraordinary artist. Nick has held private concerts for well know celebrated figures such as William Shatner, Jerry Bruckheimer, Jon Voight, LA Mayor Antonio Villaraigosa and many more. Recently, Nick performed a solo concert with the Jordan Springs Symphony Orchestra in Washington DC. Nick regularly headlines at performing art centers like the Solano Performing Art Center, and entertains at places like the Pala Casino in Temecula, CA and Las Vegas' famed Caesar's Palace.
The youngest child of a family raised on the rough streets of LA's violence-riddled Crenshaw District, singer/songwriter, Nick Palance, was literally born with music in his blood. His father was an accomplished musician in his own right, and his mother's family was known across the globe for building exceptional hand-crafted pipe organs. Although their small home was filled with musical instruments, they remained largely untouched. At only six years old, Nick was drawn to his father's Hammond organ that had been overlooked for so many years and taught himself to play. When he was nine he discovered the guitar and labored for hours becoming proficient in a variety of musical styles. At fourteen, years before he was legally allowed to enter a bar, he began writing songs and performing with rock bands at clubs throughout Los Angeles, including the trendy Sunset Strip.
At seventeen he was drawn to the Southern California Conservatory of Music to pursue a career as a professional studio musician. Having been told by many of his fellow band members that his voice was that of a lead singer, he approached his piano teacher at the conservatory for advice. After hearing Nick sing a few scales on the piano she immediately turned to him and said, "You have to compete for the school's vocal scholarship, it's in two weeks." Nick just laughed thinking that she was joking, but he did compete, winning the scholarship for four consecutive years and ultimately graduating with a degree in voice and a minor in classical guitar. Thus began his career as a singer. Shortly after graduating, Nick began formal training with world-renown Baritone, Dr. Hernan Pelayo. Pelayo is known for his ten years as lead Baritone at La Scalla in Italy, as well as his lead rolls aside Maria Callas and Beniamino Gigli . He also sang and toured with Placido Domingo Sr. and Pepita Domingo.
After a tenure with the Canadian Tenors and starring in the lead role of Andrew Lloyd Webber's "Joseph and the Amazing Technicolor Dreamcoat", Nick has spent the last few years traveling full time sharing his remarkable voice with captivated audiences from coast to coast.
Nick's unique repertoire spans five languages and encompasses nearly every musical genre from opera, "popera" and show tunes to rock, pop, oldies, and even a little country as well as his own original compositions.
Nick's current project is called "Saving Grace" and is thrilled to be working with Oscar and Grammy award-winning producer, arranger and composer, Jorge Calandrelli and talented producer, programmer, sound designer and engineer Greg Bartheld. The powerful and romantic original songs you will find here are the latest additions to this project.